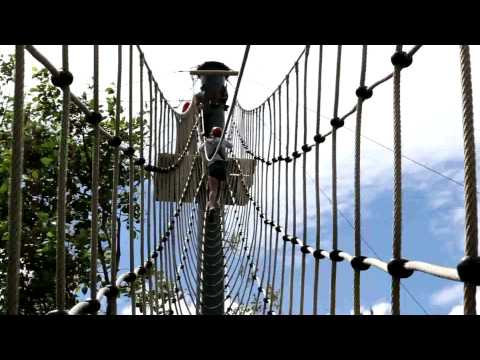 Afternoon tea at Shearing House
Afternoon tea at Shearing House
1. Whizz across the lake on our longest Zip Wire
This ever-popular activity at Elveden Forest has recently been upgraded; the wire is now a jaw-dropping 270 metres in length, making it the longest at any Center Parcs Village. As you stand at the platform, pause to enjoy breath-taking views across the forest in summertime before descending into an unforgettable experience.
2. See the Village in style on our Segway Experience
Swap two feet for two wheels and step into the future with our Segway Experience this summer. The 45-minute sessions take place at all five Villages and is a great way to enjoy the outdoors. Don't worry if you've never tried it before, each tutored session begins by practicing the basics before you head out into the open.
3. Sit back and relax in an electric boat
As temperatures rise this summer, hitting our lake can be the best – and most fun – way to cool down. But if you want to relax and take in the Village, without getting wet, why not hop aboard our new electric boats? Exclusive to Sherwood Forest, the boats seat up to four people and is the perfect way to cruise the water, effortlessly.
4. Visit the Giant Redwood trees
Did you know that Longleat Forest is home to seven Giant Redwood trees, which are more than 160 years old? Each tree reaches heights of around 140ft – around half their fully grown size. The trees are circled by The Azalea Boardwalk, why not go for a stroll this summer to get up close and personal with the giants?
5. Build sandcastles on the beach
No family summer break would be complete without a trip to the beach. And at each of our five Center Parcs Villages, there is a sandy beach just waiting to be enjoyed by young and old. Pick up a bucket and spade from The Boathouse, or come prepared, and relive your youth by building a sandcastle or two – see how long they last before being trampled on!
6. Have a family barbecue outside your Lodge
All of our Lodges come equipped with a brick-built barbecue outside, perfect for cooking up an al fresco feast for those summer nights. Barbecue coal trays can be bought from the ParcMarket, as well as fresh meats and salads. If you want to serve up something impressive during your break, try James Haywood's barbecue recipes and tips for success.
7. Make some friends at A Red Squirrel Family Adventure
Whinfell Forest is home to one of the UK's rarest and most special creatures, the red squirrel. During this hour-long outdoor activity, you and your family can get up close and personal with our forest friends. You'll visit the feeding area before taking part in a squirrel trail. Don't forget to take your camera to capture your adventure!
8. Lose track of time at Aqua Sana Spa
Why not start your break with a relaxing and rejuvenating visit to Aqua Sana? Enter the World of Spa to enjoy 15 different experience rooms, from wet to dry and herbal or meditative. If you're visiting Woburn Forest this summer, make sure you pay a visit to the all-new Aqua Sana, with six unique spas and 25 experience rooms to journey through.
9. Indulge in a spot of Afternoon Tea
There's nothing quite as patriotic as sitting back and delighting in petite sandwiches and cakes, alongside a perfectly brewed cup of tea. Earlier in the year we revealed that Vitale Café and Bar is adding the tradition to its menu, but if you're visiting Center Parcs this summer you can also enjoy afternoon tea at:
The Shearing House, Woburn Forest (right)
Foresters' Inn, Sherwood Forest and Elveden Forest
The Grand Café, Longleat Forest
The Lakeside Inn, Whinfell Forest
10. Take a bite from our Summer Specials menu
For a limited time only, our Summer Specials menu across all five is the perfect accompaniment to the season of sun. From Eton Mess Pancake Stacks and refreshing Homemade Raspberry Lemonade at The Pancake House to a delicious Summer Surf 'n' Turf and Combo Platter at Huck's American Bar and Grill, we're sure there's something to whet your appetite.
11. Get wet and wild in a tropical storm
Our fifth Village, Woburn Forest, offers the biggest Subtropical Swimming Paradise yet. Alongside the ever-popular Wild Water Rapids, Venture Cove and wave pool, you can tackle our three water rides, Tornado, Typhoon and Twister. Tornado is a white-knuckle family raft ride, featuring a 45-degree drop and sees you accelerate up to speeds of 20mph.
12. Watch a sunset over the lake
After a day packed with activities, what better way to wind down and appreciate your time together than watch the sun set over the lake? If you're visiting Woburn Forest this summer, you could dine al fresco at The Pancake House to take in the late evening scene, or why not take an evening stroll with the family to top off your day before bed time.
13. Cycle the perimeter of the Village
Did you know that Center Parcs has the largest fleet of cycles in the UK? With 10,000 bikes to hire across all five Villages, cycling is the best and easiest way to get around during your break. You can bring your own bike along with you, or you can hire from our selection of children and adult bikes, trailers and bike seats. Why not challenge your family to a race around the perimeter of the Village? Winners buy ice cream!
What are your favourite things to do at Center Parcs during the summer? Let us know below
Share this article: