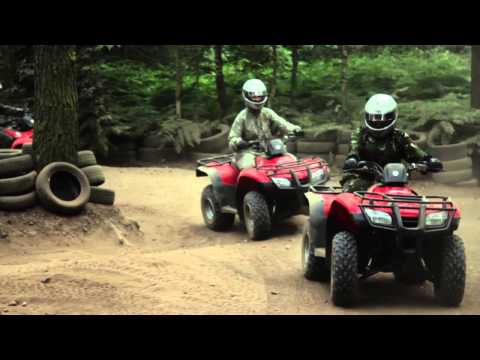 Name: Quad Bike Safari
Where: Whinfell Forest, Elveden Forest, Longleat Forest, Sherwood Forest.
Who: Anyone over the age of 16 can join in. Not old enough? Try Junior Quad Bikes for ages 6 to 11 years.
Appearance: Blue bikes with handlebars, brakes, and four wheels. Quad riders are decked out in protective clothing and a helmet.
What do I get to do? After getting suited and booted in the highly fashionable protective clothing (don't worry no one will see your face once the helmet is on!) one of our instructors will show you how to use the quad bike, before taking you for a test spin. You will then ride around our off-road track with a fully qualified group leader.

Awesome. What's the track like?The track has a mixture of off-road terrain with hills to climb and descend as well as some hairpin turns. Watch out for the banking of the track, which makes the ride a little more awkward – and a lot more exciting.
But wait a minute, should I have previous experience? While previous experience won't harm your ability, it certainly isn't essential. Our instructors are there to teach you how to safely and enjoyably use the quads, no matter whether you're a complete beginner or a hardened professional.
That's great. Where do I sign up? To take part in the activity, you can book online. Be sure to book in advance to get the time slot you want and avoid disappointment, as this activity is very popular.
Done! What else might I enjoy at Center Parcs? By the sounds of it, you're a bit of an adrenaline junkie. Perhaps give Segway Experience a whirl? It's available at all five Villages and is suitable from 12 years.
Do ask our instructor:
So, which one is the brake again?
Don't ask:
How high can these babies jump?
Share this article: