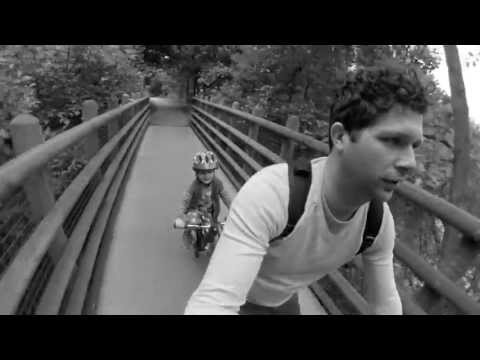 Hire bikes from the Cycle Centre during your stay
Hire bikes from the Cycle Centre during your stay
Trainers, school uniform and bicycles – the three things children are guaranteed to grow out of almost immediately after you've bought them. Despite this, in a fit of festive merriment I bought my two boys a new set of wheels for Christmas.
Luckily, as they are still young, they were the stabilisers-and-go-faster-stripes kind, not the full-face-helmet-and-leathers kind. And if nothing else, the new bicycles will certainly come in handy when we go on family breaks in the UK. Cycling as a family is my favourite way for us to spend quality time together, see new places and get a bit of exercise while we're on holiday.
To avoid future scraped elbows and A&E trips, I wanted to teach the boys cycle safety. We put the bikes in the car and headed to Sherwood Forest for the weekend. There are so many cycle routes to explore at all five of our Villages (you can download maps of our UK Villages here – pick your Village, click 'Go to location' then 'See more').
You can also hire bikes for adults and children once you arrive. For introducing little ones to cycling for the first time, why not try one of our Piccolos, a tag-a-long bicycle that is fitted to the rear of a Center Parcs bike and allows children (aged five years and over) to pedal along safely without having to worry about balance or steering.
This video, shot by guest James Dopson, shows him exploring the trails by bicycle on a family break with his young son.
Safe cycling tips
On our quick family break at Sherwood Forest, I taught the boys a few crucial lessons to stay safe while cycling:
Wear a helmet. Always. No, really, wear a helmet
As an avid cyclist myself, I'm well aware of the controversy surrounding the helmet argument. Every so often studies crop up which claim to show that wearing a helmet distracts a rider from practising safety or makes motorists dehumanise them. There's one thing we can be pretty sure of though – they protect a child's head should. So as far as my boys go, it's helmets or bust.
Fit a bell
Everyone knows what the sound of a bike bell means. It's clearer and less likely to be misheard (not to mention more polite!) than shouting at people to get out of your way. So for our bike rides on the trails at Center Parcs when we'll be passing other happy families pedalling around, they're a safety must. One word of caution though – young children can find ringing bicycle bells very, very entertaining…
Ride on the pavement
Provided there are not many pedestrians around, the pavement is a lot safer for children who are still getting the hang of cycling in a straight line. Of course, if you are enjoying your family break at one of our UK Villages, cars are not a worry on the quiet trails.
These are my essential safe cycling lessons for teaching children how to have fun and stay out of harm's way on two wheels. Have you recently taken off the stabilisers and given a cycling lesson at home? Let me know your best safety tips in the comments below.
Share this article: