New and improved Dining In menu launched this month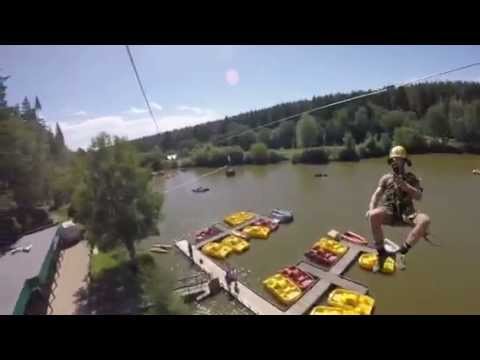 Sensory Adventure is a great activity for young and old alike
Sensory Adventure is a great activity for young and old alike
It's all go this month. We've announced the brand new menu, the launch of a unique activity at Elveden Forest and much more besides. Read on to find out what's new in the world of Center Parcs family breaks. Plus, there's our sneak preview of what we're busy working on bringing you next month.
Dining In menu
Last week we brought you news of the new menu for our Dining In service. We told you the story of the menu redevelopment and even gave you a behind the scenes glimpse of our photo shoot. The new menu offers restaurant quality food in the comfort of your lodge, freshly prepared by our expert chefs. We've added some exciting new dishes including Japanese salmon on udon noodles, a Spanish tapas platter and family-sized trays of hot and bubbling mac 'n' cheese and lasagne.
Dual zipwire at Longleat Forest
On Facebook, we brought you this video of the new Dual zipwire at Longleat Forest. You can now challenge your friends and family to the ultimate airborne race and zoom down the zipwires across the lake together to see who will be victorious at the end.
Karen Blake on Facebook said, "Need to go to Longleat Forest to do this," while Angie Fairclough has already taken the challenge, and said "Can't believe I did this!"
Sensory Adventure
A new activity arrived at Elveden Forest this month. The unique Sensory Adventure is an enchanting and interactive journey where you put your abilities to the test against friends, family and our resident wildlife.
We brought you exclusive pictures from before the launch and an interview with Sue Goddard, who told us how the exciting activity was created.
Have you voted for us?
Voting opened this month for the British Travel Awards, so we've been asking you to show your support for Center Parcs by helping us win the Best UK Family Holiday category. We also showed you some of the great things our guests have been saying on social media to convince you!
Everyone who votes is entered into a free prize draw for the chance to win some spectacular prizes including:
A Lapland day tour for two
A seven-night tour of Prague, Budapest and Vienna
A two-night break to Barcelona for two
A week-long ski holiday in a catered chalet in the French Alps.
Pop over to the British Travel Awards site and cast your vote now.
Krispy Kreme gets nutty
It's back! July saw the long-awaited return of the Krispy Kreme Reese's Doughnut to ParcMarket on every Village. It's joined by a new addition to the Krispy Kreme family, the Reese's Peanut Butter Crunch. We've taste-tested both for you because our commitment knows no bounds. And yes, they're amazing.
Coming soon…
Next month, we're starting to feel the tiniest bit festive, with an exclusive glimpse at what it takes to bring the magic of Winter Wonderland to our newest Village for the first time.
Share this article: