The yellow of a male brimstone butterfly is a signal that spring is on its way
Camera for filming badgers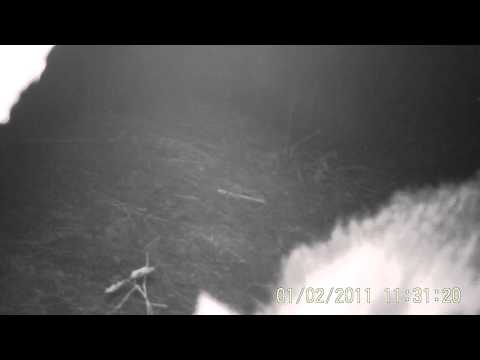 A collection of birds, including two Canada Geese, have ruined Kev's snowdrops on the lake island
Camera for filming badgers
A collection of birds, including two Canada Geese, have ruined Kev's snowdrops on the lake island
In nature there are no natural disasters. Everything happens for a reason and has a purpose, take my trees as an example. This month Andy and I had planned to remove some trees to allow more space for growth, but the awful weather has taken out a few more than intended – and not where we'd intended! But, we have to roll with it. We'll look to utilise those areas that are now a little barer, either replant them or improve in another way.
Nottinghamshire, where Sherwood Forest sits, has been battered this month by winds of up to 80mph. The gusts have brought down some trees in the outer forest, away from buildings and pathways. Where the wind has brought a tree down from the bottom, it exposes the sand-covered roots – this is great for wildlife. A lot of birds will nest in the root end and, if they're pointing towards the sun, solitary bees and wasps will be attracted to the artificial sandbank that's been left behind. It's brilliant for reptiles too.
Season of life
I saw a great sight on the lake last week – a goosander, the sawbill, which only comes for winter. You have to appreciate those moments because they only stay for winter; he'll be gone soon and may not come back. Already on the Village, life is beginning to take shape now the weather is warming up. Many think of spring as the season of life and growth, but I won't see much of it for another month or so. Badgers could potentially have their young now, underground, but they won't bring them up until April because they're such tiny, delicate things. Fox cubs are the same.
It's a dangerous time of year because animals can be caught out by the weather. The success of a brood relies solely on food supply, so if the weather is dodgy some animals can mistime it and totally get it wrong. For example, insect eaters such as blue tits and great tits tend to time their reproductive season for the flurry of caterpillars on the flush of new leaves. But with the likes of climate change the leaves can come out earlier if it feels slightly warmer, meaning birds will get tricked into nesting too early before there's a food source available to them and their young.
We have three robins' nests in the Village. Sadly, one pair have already got it wrong, as we found two dead young. They've brought them into the world and can't feed them; it's possible they might be an inexperienced pair prompted into nesting by mild weather. It is upsetting to see, but that same pair have rebuilt a nest just 10ft away and she's sitting again now, to lay. The sole motivator for birds in the breeding season is to replicate themselves at least once – that's all they want. But the survival is all dependent on food.
Blooming trouble
Badgers are the same. In a sett there can be an extended family – mother, daughters, husband, uncle, aunt – but there's always a dominant female. There's an allowance for only one litter and that's going to come from the boss. If the aunt or whoever gives birth, it could come to a very sad end. It's cruel but there's a limited food supply and badgers know they can't just keep breeding. They're clever animals and clean ones too. We have moving-image cameras set up and I can see they never go to the toilet in or around their living area, they use latrines. You can even see what they've eaten – they've been nibbling on bluebell bulbs. My bulbs that I planted on hand and knee!
So what else have I been up to since I last posted? Well, we've been admiring our handiwork! The snowdrops are coming out along the drive and near Jardin des Sport. We planted some in an island on the lake, but it has since been claimed by a pair of swans, a pair of Canada geese and a pair of grey-legged geese. The island isn't big enough for all six – someone will have to give way. But in the melee of deciding all of this they've destroyed my snowdrops.
I know exactly how it will end. Swans are very territorial and, once they've made their mind up, nothing will stop them. It'll end up as a white island – but with a pair of swans on them!
My favourite time of year
Soon I'll be busy starting my amphibian surveys. When I see frogs marching over to the waterways, I know it's the start of their migration. They hibernate under thick layers of leaves and only need a few days of milder weather for the temperature to penetrate, before they hop out of bed and say: 'Right that's it, spring's here! Time to multiply!'
This time of year is a waiting game; you're waiting for your flowers to bloom, plants to grow and for animals to reproduce. But, as the saying goes, to enjoy the rainbow you've got to endure the rain. Every month has something to offer, but spring is my favourite time of year and it means different things to different people. For some it means lambs skipping about in fields, but for me it's signified by three colours: the yellow of the male brimstone butterfly, the blue of a bluebell and the brown of a chiffchaff.
When I see those colours, I know that spring has arrived. But I could be wrong – I'm colour blind!
Share this article: