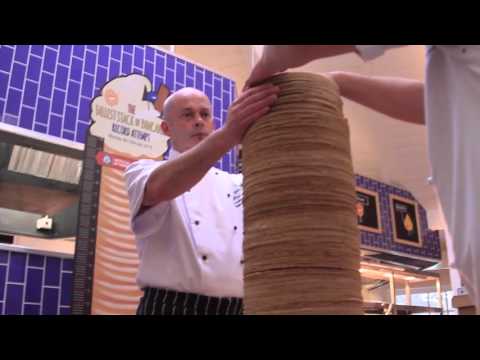 Q: What's the best pancake topping?
A: More pancakes.
We've always known it to be true – there's nothing batter than a good pancake. And now we're putting it on the record. Today we've taken our theory to new heights by breaking the Guinness World Records title for the tallest stack of pancakes.
The previous record, held by a theme park in the Netherlands, was 91.2cm. This morning that record was shattered by The Pancake House at Sherwood Forest, where the team built a towering pillar of pancakes to a flipping marvellous height of 101.8cm.
Pancake planning
To ensure this tall order didn't fall flat as a pancake, Center Parcs' Group Executive Head Chef, James Haywood, and and Executive Sous Chef Dave Nicholls have been practising their stacking skills since January. The final, successful attempt took 45 minutes, with the pressure mounting to the final five seconds when the tower had to stand straight and unsupported without toppling. If it all collapsed now, we may have flipped out.
James said:
"After the longest five seconds of my life, I'm so proud to say that we've set a new Guinness World Records title. The Pancake House is not just a nod to Center Parcs' Dutch heritage – it's something that is enjoyed by many families. Since we opened our doors in 1987, we've served enough pancakes to reach the top of Mount Everest, so it seems right that we now hold the Guinness World Records title."
Stack facts:
The stack consisted of 213 pancakes, which used…
14 bags of flour
700 eggs
26 pints of milk
After our adjudicator officially called the success, the team set to work dismantling the stack and handing them out to guests, topped with plenty of tasty treats.
Have your pancake cravings crêpe-d up on you while you read this? Check out our incredible stuffed pancake recipes, just in time for you to try on Puncake Day. Sorry, Pancake Day.
Liked that? Try these:
Share this article: